​
"Volunteering with Friends of the ARK"
Monday, December 13, 2021 @ 6 p.m.
via CBBF Facebook page
WHAT: "Volunteering with Friends of the ARK"
WHEN: Monday, December 13th at 6 pm
WHERE: Coastal Bend Bays Foundation Facebook page
The Coastal Bend Bays Foundation will host  their monthly Coastal Issues Forum with a FREE interactive virtual meeting on Monday, December 13, 2021, at 6 p.m. featuring Representatives from Friends of the ARK. They will be available during the presentation via Facebook chat for question and comments. We hope you can join us!
​​The narrated photo essay will inform viewers about the efforts of the Friends of the ARK and give a behind-the-scenes look at what happens while rehabilitating these magnificent creatures to be returned back to their natural wild habitat.
---
Friends of the ARK is a nonprofit organization that began in May 2006, to fundraise for the Amos Rehabilitation Keep (ARK) in Port Aransas, Texas, and provide education to the public. For more information, visit: http://www.friendsoftheark.org/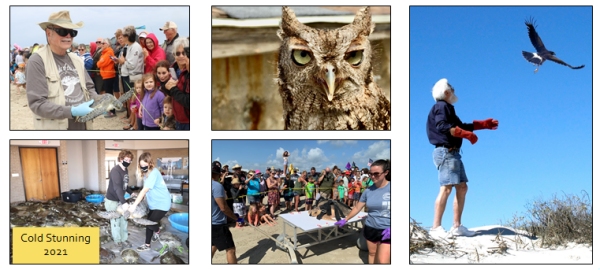 How the event works:
When you join the Facebook Premiere post, you will be watching a pre-recorded video from our presenter with a live Q&A through the chat function. This is an excellent opportunity to ask questions and learn more about the importance and impacts of the Carbon Capture study. 
Hope you can join! Follow the link below to join the conversation:
https:// www.facebook.com/coastalbendbaysfoundation
---
To receive announcements on upcoming forums, please join our mailing list by filling out the information below.