Become a member today!
The Coastal Bend Bays Foundation is a grassroots membership-based non-profit 501(c)(3) public interest organization that has proudly served the Coastal Bend community since 1991! We are dedicated to the conservation of freshwater and coastal natural resources for current and future generations through communication, advocacy, outreach, research, and education.
CBBF memberships support the meaningful and inspirational work being conducted through CBBF projects and programs, such as our free Earth Day-Bay Day festival and Coastal Issues Forum series, the annual Conservation & Environmental Stewardship Awards Banquet, multiple coastal cleanups, and habitat restoration and planting, just to name a few.
As a member of CBBF, you will receive our e-news announcements which include important updates on CBBF projects, invitations to attend upcoming events and meetings and ways to participate in conservation and stewardship opportunities throughout the Coastal Bend. Additionally, you have ongoing access to our website and our Facebook page (@coastalbendbaysfoundation) for up-to-date information and conversations.
Join today by selecting your level below under Membership Options tab or mail a check along with the completed form to CBBF, 1305 N Shoreline Blvd, Suite. 314, Corpus Christi, TX 78401.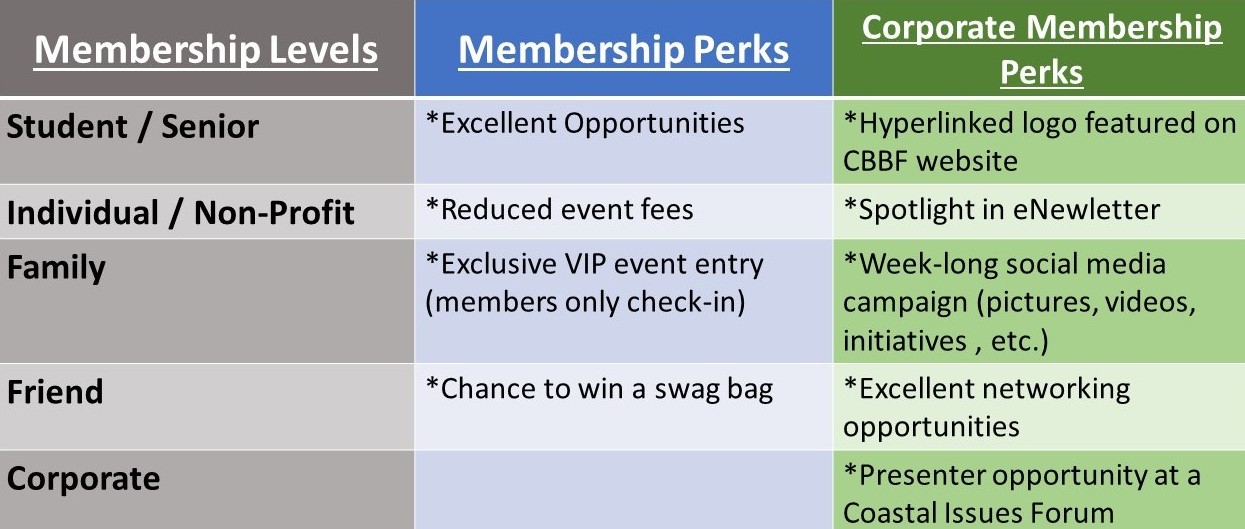 ---
---