Coastal Bend Bays Foundation Clean-ups
Adopt-A-Beach Program
2021 Spring Beach Cleanup
Join Us on Saturday, April 17, 2021 from 9am – noon for the Adopt-A-Beach Winter Cleanup! Registration is required for this event. Supplies are limited to the first 200 registered volunteers.
Join us for a spring-cleaning beach cleanup on the south Texas coast!
Registration begins at 8:30 a.m. and the cleanup is from 9 till noon.
Volunteers are asked to wear closed-toe shoes and bring plenty of drinking water. We are also asking that you bring along your own set of gloves as we donated most of our inventory at the onset of COVID-19. Disposable, work or garden gloves work great! Adopt-A-Beach will provide all necessary materials.
Registration is required due to COVID-19. Please sign up today, one ticket per person, no group sign ups available this year. Registration will remain open until the end of the cleanup on April 17th.
Check-In Sites and Coordinator:
–Packery Flats/Mollie Beattie Coastal Habitat Community—Nueces County
Parking lot off Hwy 361,
on Mustang Island past Zahn Rd.
Adriana Reza, Coastal Bend Bays Foundation
361.882.3439
adrianar@baysfoundation.org
Packery Flats, State Highway 361, just past Zahn Road on Mustang Island (map and directions below)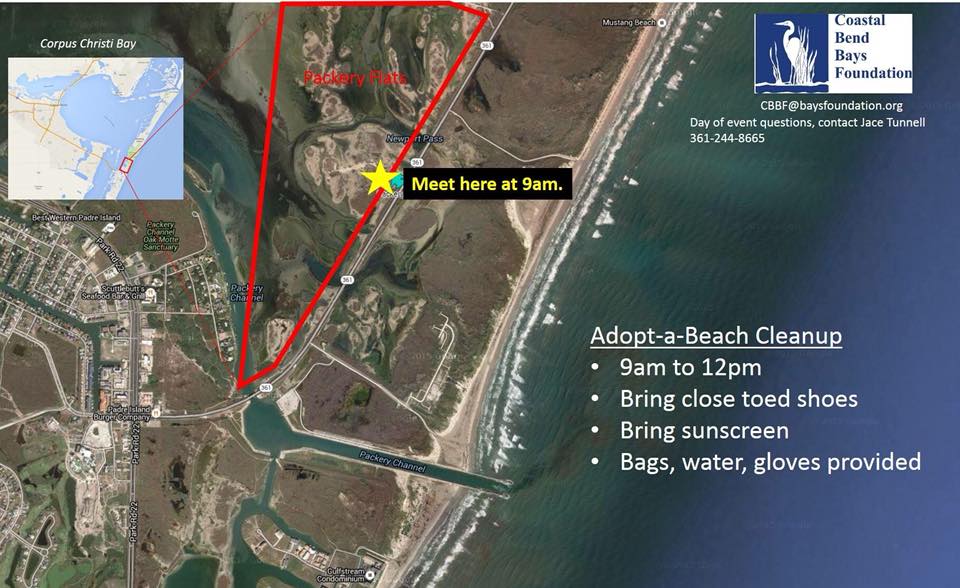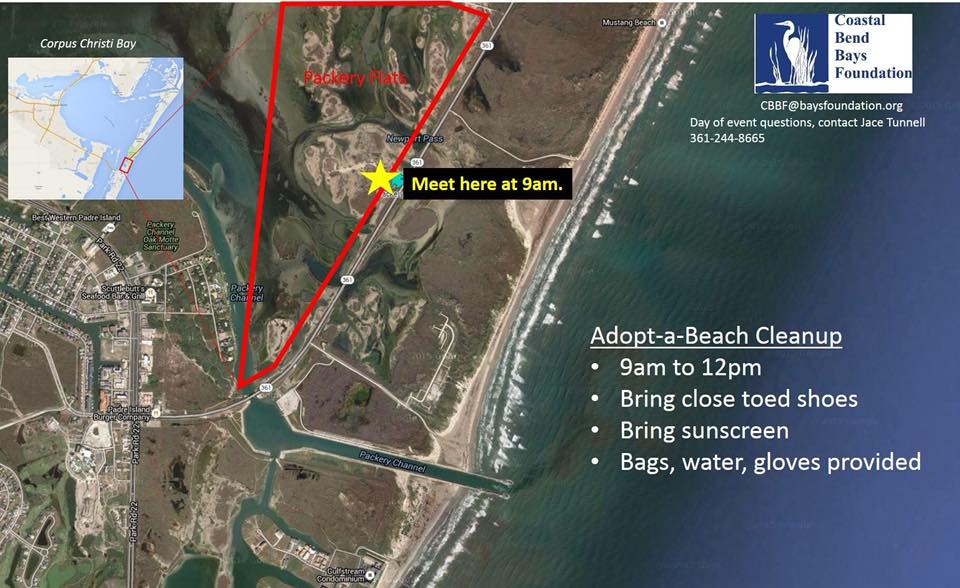 Important Safety Information:
Wear closed toe shoes

Wear gloves

Don't handle dead or injured animals

Avoid heavy lifting

Don't Pick up Hazardous materials

Stay cool

Take special precautions with small children
Please look below to see what other safety precautions you need to take before going out to the clean-up!
Contactless Cleanups
Adopt-A-Beach programs are now using the Clean Swell app to collect the valuable information gathered from our volunteers during beach cleanups.
Beach Cleanups for 2019
Our Adopt-A-Beach clean-ups are a success!
With 432 volunteers we removed more than 7,000 pounds of trash from 23 miles of beach.
Since the cleanups began, 79,012 volunteers have removed over 1,200 tons of trash from the Corpus Christi region.
The 16th Annual Texas General Land Office Coastal Bend Winter Cleanup will be held on Saturday, February 8th from 9:00 a.m. to Noon.
There are 5 sites in the Corpus Christi area: – Aransas Pass, Packery Flats, North Beach, Cole Park, and the Padre Island National Seashore.
-Get together with good friends for a good cause
-See what unusual items wash up, blow onto and are left on Texas beaches
Locate the site you want to attend at texasadoptabeach.org.
Register online or just show up at the site of choice on Saturday, February 8th.
Volunteers will need to wear closed toe shoes and bring – sunscreen, sunglasses, bug repellant, a hat, and drinking water.
On February 8th check in at the site location of choice and receive your supplies (trash bags, gloves, data cards, and pencils).
Go clean the beach.
When finished cleaning, return to the check-in site and turn in your data cards and enjoy some refreshments at most site locations
We clean rain or shine!